The updated TK7 panel is now available. This is a major update for 2020 that was released on July 1 and starts version 2.0 for the TK7 panel. A subsequent bug fix (version 2.0.1) was released roughly a week later (July 6 and 7) to provide a workaround for changes Adobe introduced in the latest version of Photoshop 2020 v21.2.
Previous customers should have received an email from Sean Bagshaw or me detailing update options and providing appropriate discount codes. These update emails were sent on July 1 and July 2. Be sure to check your junk/spam folder for these dates if you didn't receive update information. My MailChimp server indicates about 20% of these emails are still unopened. If you can't find it, contact Sean if you originally purchased from him or contact me if you purchased from me.
If you downloaded the updated panel from July 1 through July 6, before I fixed the bug, you were sent a additional download info for updating to version 2.0.1 on July 6 or 7. Again, you may need to check spam/junk folder. If you didn't receive the new download link for the bug fix, you can also download again using your original download link. That original link now downloads the bug-fixed version of the panel, version 2.0.1. A fresh download will contain the new installer that removes your previous installation and installs the latest version of the panel. The Go module will say "TK7 v 2.0.1" if you have the most up-to-date version of the TK7 panel installed. I apologize for the inconvenience required by this bug fix, but it didn't show up until Photoshop 2020 v21.2 was released on June 15, and since most people are unaffected by it, it wasn't well reported until after the new TK7 update was released. Once I could predictably replicate it, I coded a workaround and released it as version 2.0.1.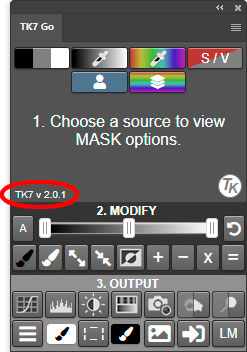 Despite having to rectify an unexpected bug that showed up in Photoshop 2020, I'm still very excited about the latest update of the TK7 panel. In addition to keeping all the previous modules and features, it adds the new Go module for making pixel-based masks and several new features in the Combo and Cx modules. The videos at the bottom of this post review and demonstrate some of them.
The Go module is certainly the biggest change. It provides an entirely new way to make pixel-based masks, like luminosity masks. It's still very fast at generating masks and it still makes 16-bit masks, but it has a new layout to simplify the entire process of generating, modifying, and then deploying these masks. Some of its features are listed below.
A distinctive interface for each of the different types of masks (luminosity presets, Zone masks, Infinity Color masks, Saturation and Vibrance masks, My Channels masks, and calculated masks).
New Zone masks that provide new ways to control zone width and brightness plus linear Zone mask presets.
Color presets for Infinity Color masks and a new method to adjust color mask brightness.
More output options on the main interface eliminates the need to open a menu to access common deployment methods. These now include the ability to generate common adjustment layers and also to quickly set up burning and dodging by painting through luminosity masks.
I see the Go module as an evolution of the RapidMask module. Go has most of the same functions, but with a simpler interface that's easier to learn and navigate and with more core functions accessible directly from the front of the panel.
The Combo and Cx modules have also been significantly improved in this update.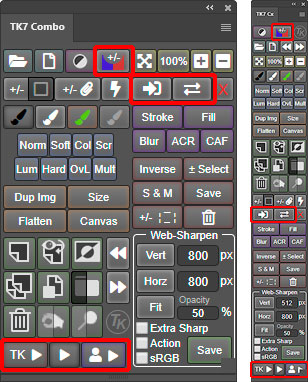 New features include:
Live-clipping in order to view when highlights and shadows clip as you're adjusting the image or when burning and dodging.
A dedicated "Apply" button for interfacing with the Channels panel to easily apply channel masks as layer masks or to load them as selections.
An image-mask toggle button to switch between viewing the image and the layer mask with no shortcut keys.
New actions: Soft Pop and Paint Contrast.
User actions that are easier to set up and access.
Buttons that can be reprogrammed and renamed to run the user's actions instead of the button's default action.
Color-tagging for buttons and menu items to help you find your favorites faster.
These new features in Combo and Cx will add improved capability and efficiency within your Photoshop workflow
The videos below review the new features and show how they work.
NOTE: I've been working on this update for nearly a year and could not have done it without the input and help from many people. These includes my affiliates: Sean Bagshaw, Rafael Coutinho, Antonio Prado, Roy Yuan, Isabella Tabacchi, and Andre Distel. Bruce Bartholomew was a major contributor in providing new ideas, proofreading, and suggesting improvement. Watching Steve Dell use the panel was also extremely useful in seeing how it worked for others and ways it could be improved. Email conversations with Gerald Vincent also led to improvements. In addition, there were countless emails, conversations, and YouTube videos that triggered new ideas that found their way into various parts of the panel. I am sincerely grateful for the network of photographers who use the panel and provide feedback on how to make it better.