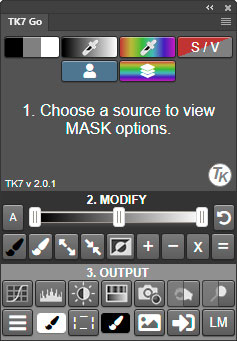 Sean Bagshaw has an excellent video that demonstrates how the new TK7 Go module can easily fit into your processing workflow. It's part of his TK7 Video Guide series and is linked at the bottom of this post. It's not meant to show every feature in the Go module, but does cover a lot of territory on what's available. He also touches on some important decision-making aspects of using masks and shows how to create and use them efficiently. Here are some of the highlights.
The mental checklist. This is a really nice review on how to decide what type of mask to use, or even if a mask is needed at all. Basically, deciding what you want to accomplish is an important first step in choosing the best tool to achieve that goal.
Experimentation is sometimes necessary. The best type of pixel-value mask (luminosity, color, zone, channel, saturation, or vibrance), isn't always obvious. You might try one mask and find it's not ideal. If that happens, don't give up. As Sean demonstrates, it's easy to switch to a different type of mask with the Go module, and there's a good chance there will one that matches the areas of the image you want to select.
The targeted adjustment tool is your friend. Once you find a mask that works and have created an adjustment layer with the mask as a layer mask, the targeted-adjustment tool makes the necessary adjustment easy. Simply choose the tool in the Properties panel and then click and drag on the image. The tool finds the matching color or tone in the image and dragging on the image makes the adjustment. Curves, Hue/Saturation, and Black and White adjustment layers offer the targeted adjustment tool.
The mask calculator is cool. I'm always impressed at how combining different types of masks using this calculator can create some very useful masks that would be hard to achieve without it. It does take a little practice to think in terms of selected areas instead of numbers when using the mask calculator, but once you see how it works, a whole new level of custom masks becomes available. As Sean shows in the video, the subtract function is one of the most useful calculations. Be sure to give it a try.
Image processing with masks is incremental. Using pixel-value masks is not a one-click approach to image development. Each mask is usually combined with just one step in the process, and it's the combination of several masks and steps that creates the final image. The Go module makes generating and using complex masks easy, but you'll still spend some time deciding how things flow. Because of this hands-on approach, the final image reflects your individual sense of how this photograph should look and what it conveys to the viewer. In the end, it's your vision that these masks make possible.
I'm sure you'll enjoy this video and I hope it gives you new ideas for using pixel-value masks and the Go module to develop your images.
Be sure to subscribe to Sean's YouTube channel for more videos about photography and digital processing.