Sean Bashaw has another great quick tip on one of the new features in the TK7 RapidMask module. "My Channels" allows any selection, layer mask, or alpha channel to become a Rapid Mask. Previously, the RapidMask module only supported masks created by the module itself. Now, "My Channels" allows user-created masks and selections to be quickly brought into the Rapid Mask process. Once incorporated, they can serve as the starting point for making Lights, Darks, Midtone, and Zone masks. These personal masks can also be modified using the module's MODIFY section, and output using any of the buttons in the OUTPUT section. So if you want to make a luminosity mask, color mask, saturation/vibrance mask, or use your own mask or selection, the TK7 RapidMask module now handles all these different options with ease.
To start using "My Channels" simply click the Channel > My Channels option in the SOURCE section of the updated RapidMask module.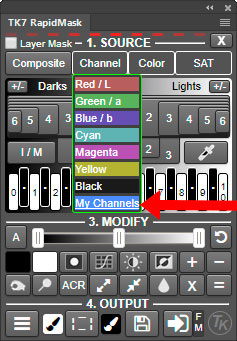 Your document is scanned for available masks and selections and the results are displayed in a new window that appears on the module.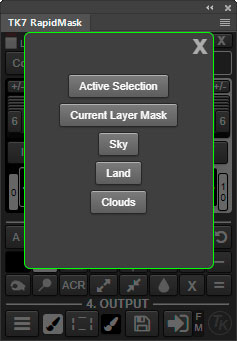 Then just click a button to turn that item into the new Rapid Mask. From there, all the other features in the RapidMask module, including the mask calculator, can be used with it.
"My Channels" means that ANY mask or selection can now power the Rapid Mask engine. Or, to put it another way, every mask and selection is now a Rapid Mask waiting to happen. Some wonderful new masking options are available as a result. Sean provides a good overview of what's possible in the video below.
Be sure to subscribe to Sean's YouTube channel for more great tips on photography and post-processing including those listed below.
"My Channels" masks
Infinity color masks
Linked vs. unlinked smart objects
Three ways to use Levels and Curves
Reusing saved luminosity masks
Developing a quality night sky
Split toning
Cloud sculpting
Exposure blending
Favorite new V6 features